The sun is out, flowers are blooming, and people are out and about enjoying the beautiful weather. Spring is the time for sandals, sundresses, and refreshing new nail colors and designs. It is time to set aside those neutral, darker colors and bring out vibrant, bright, and wild patterns and colors for your nails. Let your nails be your best accessory. Plus, since you will often be wearing sandals or flip flops, you will have ten more nails to paint and show off on your toes!
Here are a few nail ideas to spring you into the spring spirit: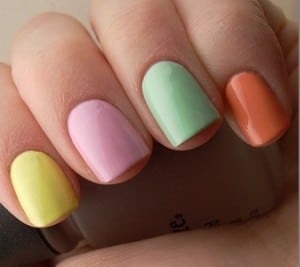 -Pastels
Pastel colors are very popular this season. There are plenty of beautiful light, soft colors to chose from. Feel free to mix and match. Pastels are especially popular in early spring around Easter time. Find the perfect color that will go with just about anything.
-Neon
As the sun starts to shine brighter and brighter you may feel inspired to brighten up your nails as well. Neon colors are a great way to make a statement this spring and summer with a unique style. The bright neon shades will also go great with your tan! Just be sure to tone down your outfit if you go with brighter nails.
-Animal Print
Animal Print nails are another fun and easy way to make your nails look great for spring. First pick a design (leopard print, cheetah print, tiger stripes, zebra stripes,etc.). Then pick the colors you want to use and apply two coats of the base color. Once the base is dry, dab a few drops of the other colors you wish to use on a small piece of paper or index card. Then use a toothpick to carefully draw the animal print pattern onto the nail. If you want to take a short-cut, try Sally Hansen or Jamberry nail wraps.
-Floral
Flowers are one of the most recognizable signs of spring, so why not make them part of your nail design? Flowers are gorgeous and come in all shapes, sizes and colors, allowing you to get creative with your designs. Using the same toothpick technique mentioned above, or try nail wraps. Jamberry has lots of gorgeous flower wraps. Put a flower on only one finger, on a few, or on all ten. It's completely up to you. I change mine up all the time!