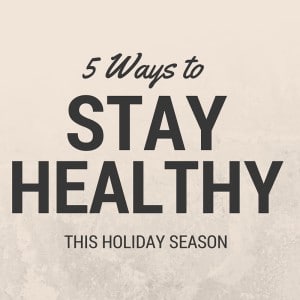 We're already halfway through November (I know, right?), so you know what that means: the holidays are almost here!
It can be challenging to stay healthy around this time of year: the sweets and treats start appearing everywhere, yummy leftovers stick around in the fridge, and it can feel so hard to pass on those dishes that your family makes only one time a year.
But, don't worry! There is a way to stay fit and healthy from now until the New Year. Follow the tips below to start planning for success now:
Get Enough Sleep
We all know that getting enough sleep is important, but did you know that sleep is also closely connected to weight loss? The National Sleep Foundation writes that "sleep deprivation may…inhibit one's ability to lose weight – even while exercising and eating well."
Among the hustle and bustle of the holiday season, it can be especially tempting to go with less sleep. Start planning your activities now to make sure you don't overbook yourself. Remember that sleep is a priority, not an option.
Stay Moving
When our calendars fill up with travel, hosting duties, parties, and seasonal activities, it can be easy to feel like our regular routines have been overtaken. To keep your exercise routine a priority, start building a habit now. Instead of joining the gym in January, sign up today. If you build workouts into your weekly schedule now, you'll be more likely to stick with them, even at the height of the holidays.
Hydrate
Plan ahead to make staying hydrated a priority. When the cocktails are plentiful, pace yourself by drinking a glass of water for every other beverage you consume. To stay hydrated in the chilly months, reach for a cup of hot water with lemon. You can also stock your purse with herbal teabags to stay warm and healthy while you travel.
Offer to Bring Something Healthy to the Party
You can inspire others, and guarantee there is at least one healthy dish at the party, by offering to bring a nutritious dish of your own. For inspiration, check out these healthy side dish and dessert recipes. This is a great way to show up with a contribution to the party, and to encourage healthy eating at the same time. 
Eat Mindfully
When lots of little treats are around, it can be so easy to disconnect and mindlessly munch. Every time you eat, take a moment to check in with yourself and ask, Why am I eating this? Am I actually hungry, or is there an emotional reason (stress or boredom, for example) for why I am eating? When you check in with yourself before you eat, you'll be more aware and more likely to make healthier choices.
I hope you can use these tips to stay healthy during the holiday season, and all throughout the year. Follow me on Pinterest @ Lindsay Wager for more health and fitness tips and tricks.
Do you have any tips for staying healthy during the holidays? I'd love to hear them! Please share in the comments below.